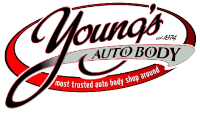 Find deals for Young's Auto Body on the new Locapon app! Young's Auto Body is an auto body shop located in Elliot Lake, Ontario.
Family owned and operated since 1974
At Young's Auto Body, the staff rely on a rich history of experience and continual training to offer a superior level of reliable repair services. Visit the team for all your automotive repairs. They also provide assistance with your insurance claim and towing arrangements can be made if required. Become part of the Young's family!.
Download the free Locapon app today for great deals!