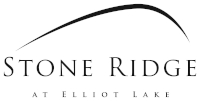 Find deals for Stone Ridge on the new Locapon app! Stone Ridge is a golf course located in Elliot Lake, Ontario.
The scenery and views are some of the best in Ontario
Golfers will delight in the breathtaking vistas of the rock escarpment, beautiful Ryan Lake and the vast northern Ontario wilderness. The course will challenge your entire game from tee to green. With four different tee decks you will be sure to find a distance that suits your game.
Download the free Locapon app today for great deals!